Commuter Train Check - Live UK Train Times
by IJM Software
Commuter Train Check is an application that lets you quickly and easily find out live train times in the UK.
Launched originally in November 2019 on Android, and in November 2020 on iOS, it is already a robust and mature application with advanced features including multi-leg journeys and alternative source and destination stations.
Download it now for free on Google Play! or Download it now for free on the Apple App Store!
Designed with the train commuter in mind, you can set up your regular journeys, specifying the time windows in which you would usually make them. Depending on the time of day that you open the app, the journeys applicable at that time (the "active" journeys) will be presented first. In other words, the train you will be interested in at that time will be at your fingertips upon opening the app. You can also take advantage of the "spotlight" feature to show specified journey(s) at the top of the home screen at all times.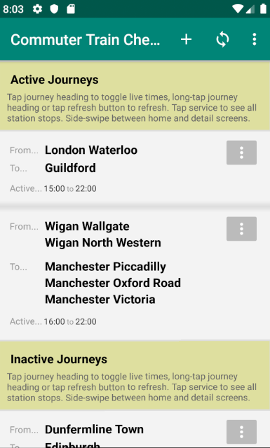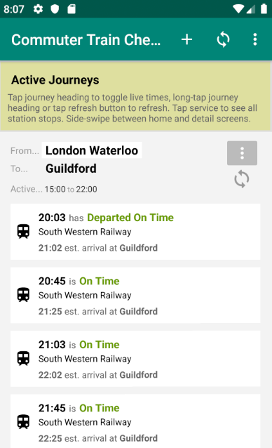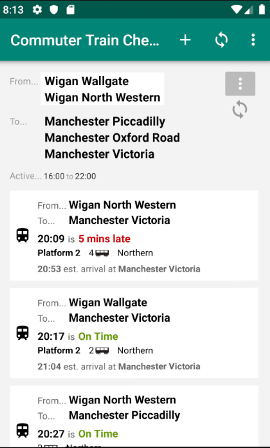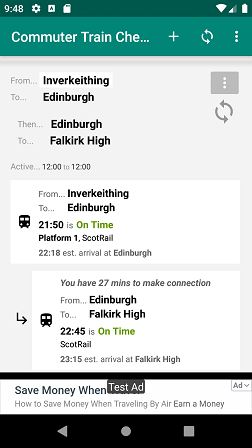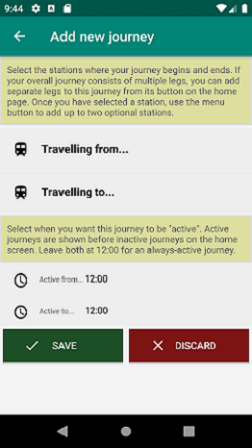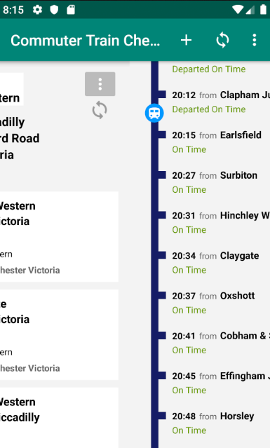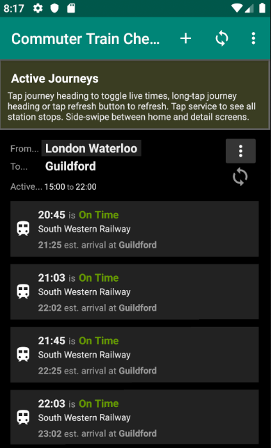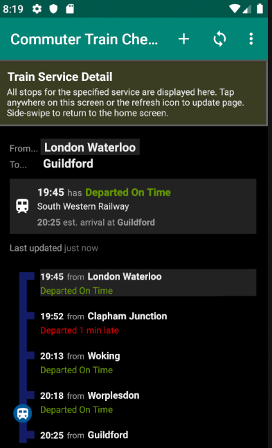 An advanced feature is the ability to specify up to 3 alternative source stations and 3 alternative destination stations for the same journey. You will then be presented with live train times for services covering all available combinations. Perfect for where you have choices of source and destination stations and trains that cover various routes.
You can also choose to leave the destination station blank in order to see all trains passing through the source station.
Another advanced feature is the ability to specify up to 3 different legs of your journey. The app will present the different potential train combinations you can take, given the latest live times. The time you will have to make each connection is also presented, allowing you to work out if you have a chance of actually making the connection.
You can also view earlier services for any given journey, which displays all trains which are still in motion, or have reached their destination in the last half hour. Further, any service in the detail screen will always be available until half an hour after the train reaches its destination - allowing you to track a train's expected future progress if you are keeping an eye on a connection.
Whilst aimed at commuters with regular train journey habits, it can easily be used by anyone to find out the live train time status of ad hoc journeys - just add the journey you want to make, and then delete it later if no longer useful.
If you want a journey to always be considered "active" (and hence always at your fingertips when you open the app), you can pin it to "active", or simply set the time window for that journey to be a full 24 hours. That said, "inactive" journeys are typically just a short scroll away if you want to see their live train time status.
You can tap on any individual train service to see a detailed breakdown of all the station stops on that service, along with the live train time status at each stop. This detailed breakdown is displayed on a separate screen to the right of the home screen, and you can easily side-swipe between the two screens. Whilst these two screens are related to each other, they are separate, meaning that you can keep an eye on the detailed status of a train on the detail screen (refreshing it periodically) whilst swiping back to the home screen to look at the status of all the train services for that journey.
For each train service, the app will tell you the number of carriages (where available) and train operating company. It will also give the platform number (where available) for each station stop.
The application also features a dark mode, and allows the font size to be changed on the home and detail screens independently.
Tip text is shown liberally throughout the app, but if you reach Expert User status, the tip text can be toggled off from the main menu.
Note that this application:
i) covers only UK passenger trains
ii) will report only on trains that will pass through your source station in the next two hours
iii) will only accept direct train journeys; if your journey is split, then create a separate journey within the app for each segment
iv) is powered by National Rail Enquiries - train schedule and live status data is sourced from a data feed provided by National Rail Enquiries
If you have any questions about this application, or wish to provide constructive feedback, please email contact@ijmsoftware.net.